Horizon EUROPE
Diamond
Ultra-stable, highly efficient, low-cost perovskite photovoltaics with minimised environmental impact

Consortium
Curious to see which instituitions make up the DIAMOND consortium?
Work Packages
Each Work Package has its own set of ambicious goals. 
News & Events
The Carbon Club Conference will be the first DIAMOND event, 11-12 Oct 2023!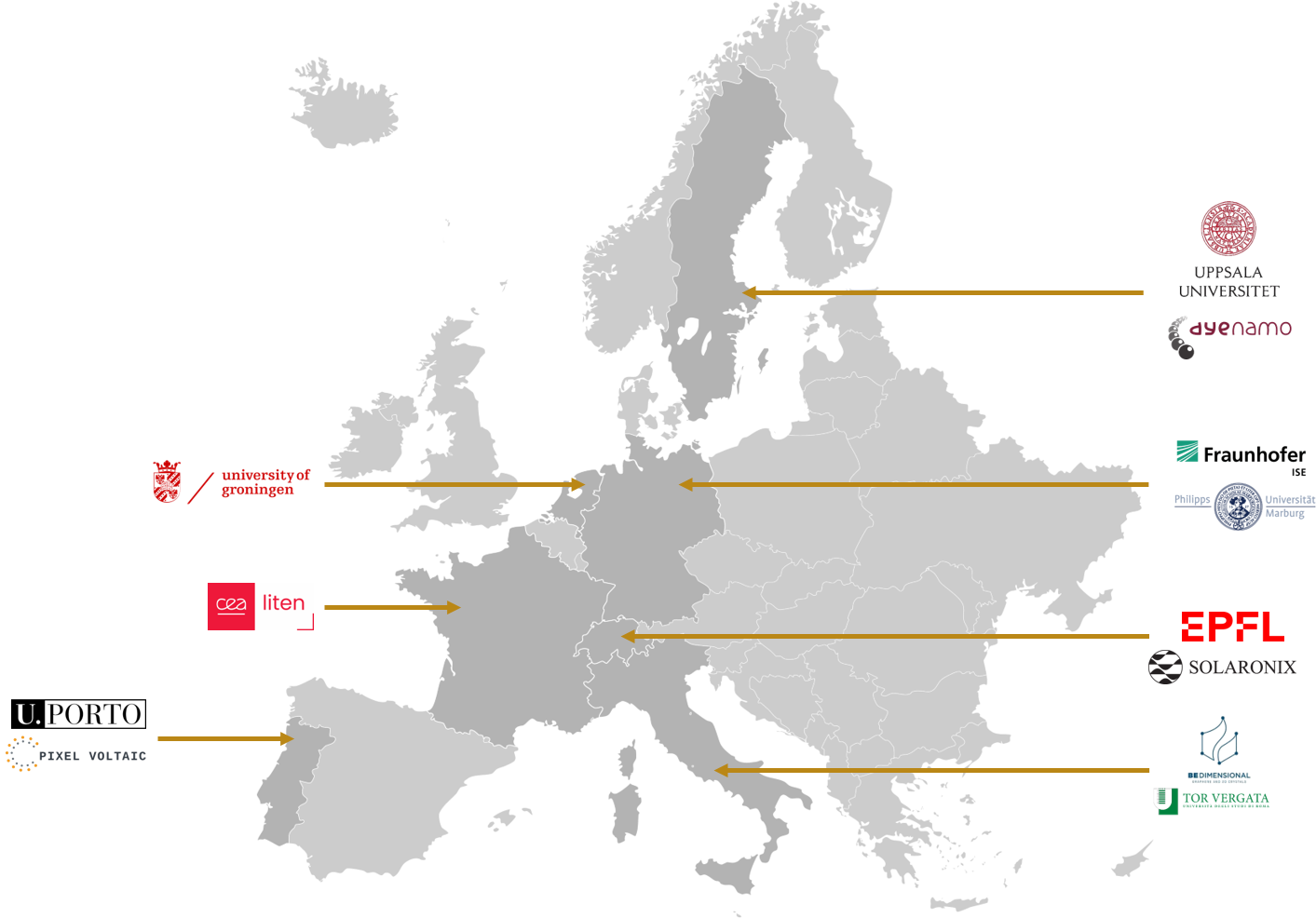 About DIAMOND
The decarbonization of the energy sector mandates a swift and widespread implementation of a clean and affordable energy infrastructure, mainly supported by photovoltaics (PV). The DIAMOND project joins 12 different Partners to develop ultra-stable, highly efficient, and low-cost perovskite PV with minimal environmental impact.
Stability
DIAMOND will develop novel hermetic encapsulation approaches and highly stable device designs to achieve unprecedent stability.
Low-cost
A fully printable module architecture allows rapid industrial up-scaling and local production in the EU, thereby reducing manufacturing costs.
Efficiency
High efficiencies will be achieved by developing cutting edge α-FAPbI3 phase-stabilized perovskite, multifunctional molecularly engineered additives and more.
Sustainability
Specific device designs that allow the lowest carbon-footprint, material criticality, and toxicity, along with increased recyclability, are targeted to minimize the ecological impact.
Our Specialized Consortium

Universities
Among the partners of DIAMOND, there are prestigious instituitions, such as, Rijksuniversiteit Groningen, Uppsala Universitet, École Polytechnique Fédérale de Lausanne, Università degli Studi di Roma Tor Vergata, Universidade do Porto, and Philipps-Universität Marburg.

Research and Tecnology Organizations
The project is coordinated by the famous Fraunhofer-Institut für Solare Energiesysteme ISE and the other RTO in this consorcium is the Commissariat à l'Énergie Atomique et aux Énergies Alternatives.

Small and medium-sized enterprises
The secret to a strong consortium is always the close relationship with the industry, so the industrial partners the DIAMOND project are Dyenamo AB, BeDimensional, Solaronix SA, and Pixel Voltaic.
"Progress is made by trial and failure; the failures are generally a hundred times more numerous than the successes, yet they are usually left unchronicled."
William Ramsay
Luigi Vesce, a representative from the University of Rome Tor Vergata, recently took center stage at the SAIPho23 Workshop, contributing to discussions on the sustainable production of perovskite modules. In his oral presentation titled "Manufacturing of large area perovskite solar modules: technological, environmental, and cost assessment," Vesce delved into the technological intricacies, environmental considerations, and cost assessments associated with this innovative solar technology.
read more